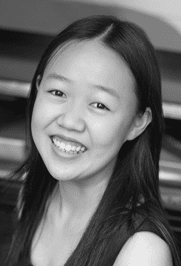 Munan Cheng is a Junior at Valley Christian High School in San Jose, California. She currently studies piano with Dr. Sharon Mann and is a member of the Young Chamber Musicians program in the Bay Area.
She is a prize winner of the Ross McKee Piano Competition, Celia Mendez Beethoven Competition, Dubois Piano Competition, KAMSA Competition, Princeton Festival Piano Competition, Young Euregion Piano Award, CAPMT Honors Competition, United States International Competition, San Jose International Piano Competition, Los Angeles Young Musician International Competition, and Pacific Musical Society Competition.
Munan attended Music@Menlo in 2017, 2018 and 2022. As a solo pianist, she has attended PianoTexas in 2021 and 2022, Vivace Music Festival, Artcial Music Festival, John Perry Academy of Music, and Todi International Music Masters. Munan has had the honor to participate in masterclasses with Gilbert Kalish, John Perry, Jerome Lowenthal, Tamás Ungár, Boris Slutsky, Antonio Pompa-Baldi, and Ronald Brautigam.
Munan is also a member of the Bay Area Youth Music Society, a non-profit community service program. Outside of music, Munan loves to cuddle with her dogs and eat good food.
Subscribe To The Bachauer Newsletter